Guide to tractor maintenance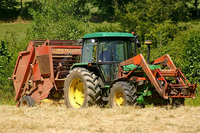 Tractor's aren't cheap. Now, that may be an understatement, but it is true and for that reason it is vital that you get the most out of yours. They need regular maintenance to keep them in the best condition. It shouldn't be too difficult to ensure that your tractor is well maintained, you will just need to read this article carefully and be confident in our ability to carry out all of the work that has been listen below.
There are some jobs that must be carried out on a daily basis, and others which can be done less frequently. For your own ease, we have split these jobs up depending on how often they are required.
Daily maintenance jobs - after 8 to 10 hours of work
These jobs and maintenance checks should be carried out on a daily basis, or after every period of 8 to 10 hours of work. If you fail to carry these out regularly then they can all build up and you can then end up with some serious issues. Remember, treat your tractor well and it will look after you in your times of need.
Check the level of oil in the engine 15 minutes after the engine has cooled down. If your oil levels are low then you should replenish it with the correct type of oil.

You should also keep an eye on the radiator water on a daily basis. Again, if the levels of water are low then they should be topped up.

You should also clean the air cleaner on a daily basis and check its oil levels. Refill if the levels of oil are low. Also, if the existing oil has become dirty, it should be replaced.
Weekly maintenance tasks - after 50 to 60 hours of work
These jobs can be carried out less frequently than the tasks listed above. However, you must still ensure that you are carrying out the daily checks at the same time. These jobs should be carried out once a week, either at the end of the working week or at the beginning before any work has begun.
It is important that you check the air pressure of your tractor's tyres on a weekly basis. If they drop too low then your tractor will not work as efficiently. If the air pressure levels in the tyres have dropped then top them up.

On a weekly basis you should check the elasticity of the fan-belt. You can do this using your thumb and it should stretch to a degree of around 12 to 18 mm.

Next, make sure that you have drained the water that has been stored in the oil filter. You should do this by unplugging the drain plug.

The water-level of the battery should also be checked on a weekly basis. If it has fallen below the limit then you should top it up with distilled water.

Another check you should make on a weekly basis is the level of oil in the gear box.

Right, once you have done all of the above, it is time to get the grease out. Apply grease to the clutch shaft, brake controls, the bearing of the fan, the hub of the front wheel and anywhere else that you feel it necessary.
Fortnightly maintenance work - after 120 to 125 hours of work
These jobs should be carried out every two weeks or after a period of 120 to 125 hours. Always remember to carry out your daily and weekly checks at the same time.
You should clean out the carbon from the smoke-tube and add any oil that is required, to the Dynamo and the starter.

The engine oil should also be changed after this period of time. Keep the tractor in its starting position for a while in order to heat up the oil. Then you switch it off and drain the oil out through the plug and replenish it with fresh, clean oil. Make sure, however, that you are using the correct grade of oil.

Check the oil filter, if it is made of metal then you will need to give it a clean. However, if it is made of a less robust material, it may require replacing.
Monthly maintenance jobs - After 250 hours of work
These jobs should be carried out after 250 hours of work, which is roughly about a month's worth. Some of these jobs may require you to check your tractor's manual before you begin work.
Check your manual. If it advises you to do so, then you may be required to clean the primary diesel filter. Or, as with some tractors, you may be required to replace it with a new one. If you aren't sure what is required then you can always contact the people who supplied you with your tractor, or its manufacturers.

You should also find the tap of the oil tank and wash its filters on a monthly basis.
Bi-monthly maintenance tasks - After 500 hours of work
Every two months you will want to carry out these jobs, whilst also making sure that you follow all of the advice above, for the more frequent checks and tasks.
Every two months you should get the injector and diesel pump checked. This should be carried out by either an authorised dealer or an experienced mechanic.

An authorised dealer or experienced mechanic should also be called in order to inspect the valve as well as the dynamo and the self starter.

Another bi-monthly job that would be good to carry out, would be the cleaning of the oil tank. Open it up, empty it out and give it a good clean.
Maintenance jobs to be carried out every four months - Around 1000 to 1200 hours of work
These larger jobs only have to be carried out every two months - thank goodness. So long as you keep up with all of the maintenance above, these jobs below will only be required after a two month period. If, however, you aren't keeping on top of the more regular maintenance, these jobs may creep up on you far more frequently.
Drain all of the oil out of the gear box and then refill it with clean oil that is suitable for your tractor.

You should also drain and replace the oil that is in the back-axle and the belt-pulley. And, as if that wasn't enough oil swappage, you should also change the steering oil every two months.

Other jobs to consider would be to change the filter of the hydraulic pump, as well as the grease on the front wheel.
So, there you have it, our complete guide to tractor maintenance. So long as you stick, rigidly, to the advice on this page, your tractor should remain in good condition and last a long time. If, however, you are slack and miss out a lot of your maintenance work, then you won't get the best out of the machine.
And here is something extra. The Farming Ads guide to tractor fuel...
Articles