Guide to buying used farm equipment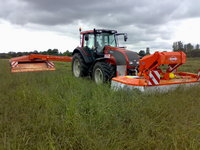 Farm equipment is extremely expensive to buy when brand new but it is a necessary investment for those involved in agriculture. There are ways to cut some of the costs however; some machinery can be hired and some can be bought second hand.
Used farm equipment is often very good quality and it can really boost the productivity of your farm. This guide should give you some tips on how to buy the best agricultural equipment you can for your budget.
Buying agricultural equipment second hand
Buy the machinery from a local farm that has a good reputation or another reputable source. Farm machinery businesses know what they are talking about and can really help you get what you want. Ask lots of questions so they can address all of your worries. If you are unsure then make sure you get all of the answers you are after before continuing with the purchase.




Do some in-depth research on the prices of used farm equipment so you know the prices you should be paying. It is always worth cross referencing a number of different adverts for the same piece of equipment in order to work out of you are getting a good deal when making the purchase.




Consider, when buying used farm equipment, that at some point the machine will be so worn out that replacing individual parts won't be cost effective. If the machinery is in a really bad way then it is often cheaper and more reliable to purchase a brand new piece of equipment.




On average combines and ploughs wear out after about 2000 hours of use and tractors after 12000 so make sure that you ask the seller how much the machinery was used and what it was used for.




Also ensure that you get the maintenance records for any used agricultural equipment you might buy.




Hire a mechanic that is used to working with farm machinery and ask them to take a look at the farm equipment before you buy it. This will give you a better idea on how many useful hours of operation the machine has left and they can also flag up any other issues that you may come across post-purchase.




Avoid buying any damaged equipment as it is a liability. Only buy it if you need back up parts for other farm machinery.
Articles