Forklift Parts Guide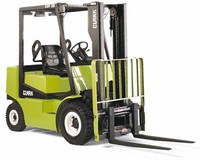 If you are a forklift owner or operator then there are some key parts which you may need to replace over time on your truck, this guide outlines specific items to look out for.
Forklifts are clever pieces of machinery, but as with any farming equipment, if they are not cared for effectively, they will soon develop faults. Often, only minor spare parts will be needed to ensure a forklift works to its full potential – these include seals, rings and bearings; and they can be purchased from all good machinery supply stores.
Forklifts: Spare parts to consider
As with most machines, on occasions the hydraulics of the forklift can develop a fault. If this occurs, useful replacement parts include pumps, motors and rams. Any issues with hydraulics will need to be counteracted relatively quickly.




Similarly, the forklift's electrics will need maintaining regularly. To remedy an electrical fault, look for parts such as motors, starter motors, alternators and armatures.
Another part which may need keeping an eye on are the brakes, over time these will take some wear and tear from constant use. Components you may want to consider are the master cylinder, brake shoes, hoses and brake handle.




If you are operating a battery powered forklift you may look to buy additional batteries and or replace existing ones.
You may also want to consider looking at new filters for your forklift, these will include oil filter, air filter, hydraulic filter, strainer and pre-cleaner.
For safety you could invest in additional accessories such as extra bulbs, switches, horn button, horn and back up alarm.




There are parts of steering which may be beneficial to replace over time, such as: steering cylinder, axle, bushings, king pins, ball joint, steering column and knuckle.




Finally, consider the importance of driver comfort, and crucially, safety. It might seem an unnecessary extra expense, but refurbishing the seating in the forklift could make tasks seem a lot less taxing and strenuous on the back.
To view our latest forklift ads click here.
Articles