Forestry machine parts guide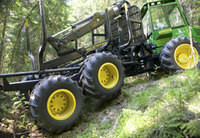 If you are looking for forestry machine parts, this guide provides information on what spare parts you may need for your forestry machinery and how to find them.
Forestry is a difficult profession to master, but the assistance of specialist forestry machines make challenging daily tasks a whole lot easier. Forestry equipment needs to be checked regularly for signs of wear and tear and to establish whether essential maintenance is needed.
Forestry machines: Spare parts to consider
Major machines used in forestry include harvesters, excavators, skidders, harwarders, feller bunchers, and knuckleboom loaders. Some modern day models can be extremely advanced, so you will need to have a good knowledge of the replacement parts available on the market.
Spare parts that may need replacing and checking regularly include:
grapplers

chains and belts

harvester cranes

forwarder cranes,

new and used valta/valmet

forwarders

harvesters

other includes- engine parts, bearings, bogie axles, pumps, cabin parts and wheels
To view the latest parts advertised on Farming ads click here.
Articles