Forage harvester parts guide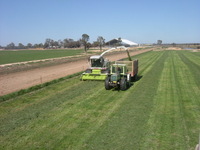 If you are looking for forage harvester parts, this guide provides information on how to find spare parts for your. To discover which spare parts are available for, read the guide below.
Forage harvesters : Spare parts to consider
Forage harvesters play a vital role in the farming process, cutting down the time needed to carry out the challenging harvesting task significantly.
Occasionally, replacement parts may be needed to ensure the forage harvester keeps working effectively – major parts that may need replacing over time include cutter heads, pick up attachments, clutch components, auger chutes, blower components, wheel bolts, cutter bars, hex shafts, feed rolls, wear plates, spacers, guide plates, sprockets, hubs, chains and belts.
Replacement parts for forage harvesters can be found at all good farming machinery stores, and if you are unsure as to the extent of the replacements needed, always ask an expert. Alternatively, keep an eye out for spare parts being advertised on Farming Ads.
Articles