Fertiliser spreader parts guide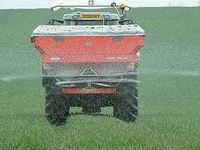 Fertiliser spreaders are very useful bits of agricultural equipment and are essential on a farm. Spreading fertiliser will make the soil more nutritious which is vital when you are growing quality crops.
Fertiliser spreaders are useful as they cut down time and costs of workers. If you use your fertiliser spreader lots then it will wear and parts will deteriorate over time.
If you need some fertiliser spreader parts you should be able to get hold of them in agricultural machinery stores. Keep a look out for used parts on Farming Ads as they might be useful to you.
Commonly replaced fertiliser spreader parts
Articles