Driving a Forklift Truck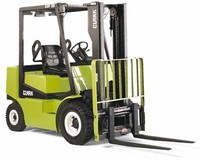 Farming and everything that goes with it involves lifting lots of heavy items, in which case, the use of a forklift makes this a lot easier. Driving a forklift in a workplace often requires a forklift driving license but can make the workload much easier.
Using forklifts can be dangerous but if you are always aware of the surroundings and use the vehicle carefully then there shouldn't be any problems. It is also vital that you don't drive a forklift unless you have undertaken the specific training that is required.
Using a forklift
Before you start using the forklift, you should get familiar with all of the controls and levers that you will be using to move the forklift and the object on it.




The leavers on the right hand side of the steering wheel control the movement of the forks. The first lever (left) controls the vertical movement of the forks. To move the forks down to the ground, push the lever away from you. Unless you are unloading or loading an object, the forks on a forklift should always be kept near the ground.




The middle lever controls the tilt of the forks forward and back. Generally, when moving an object, they are tilted back slightly toward the cab to stop the load slipping off. Pulling the lever towards you tilts them backwards and pushing it away tilts them forward. Generally, the forks on a forklift can tilt between 15 and 30 degrees each way.




The third lever controls the movement of the forklift's forks left and right. Generally they can move between 6 to 12 inches each way. The way this lever works is fairly self explanatory. Some forklifts will have two levers here, one for the left fork and one for the right. Effectively this means that the space between the forks can be increased or decreased.




Practice the controls of a forklift before you move on to picking up any valuable loads. Approach the load that you want to pick up and use the first lever to lower the forks into the correct position. Drive forward more until the forks are underneath the load that you intend to move. Remember that you may need to tilt the forks back slightly if the load is top heavy.




When you are moving the object, drive around corners slowly and honk the horn to warn anybody of your presence. When you have reached the destination to drop off the load, set it down using the same levers as before.




Remember that you may need to tilt the forks back down to level to back up. Once you have finished backing up, remember to set the forks of the forklift back down to the ground and enable the parking brake.
For more information on forklifts, head on over to ForkliftTruckMart.co.uk.
Articles