Digger Parts Guide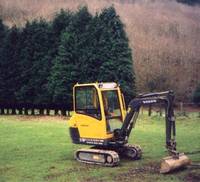 This guide provides you with all the information you will need on digger parts, from the engine to the cab, you will find everything you need to know below.
This guide is to help you find out what parts you will need to replace, which ones are the most important and simply sharing our advice.
Diggers: Spare parts to consider
One of the major faults that develops when a digger has been used for some time concerns the front loader arms. There are numerous replacement parts available for this area of the digger including bucket pins, bucket teeth, bucket retaining clips, seal kits for the front loader tilt, rams, and pivot bushes.
The control parts will also need to command much of your attention when it comes to digger maintenance. There are numerous kits available on the market to remedy problems with control parts, and you'll also need to scrutinise the condition of the digger handbrake and the throttle cables.
The engine will also require careful consideration, and replacement parts that can improve engine efficiency include manifolds, air filters, rocker covers, cylinder heads, fan belts, engine mounters, cooling components and fuel components.
Digger Bodywork parts which gain wear and tear overuse can be replaced. Such parts include rubber street pads for the jack leg feet, which will often come with washer, nuts and bolts. Some types of diggers may also need their front grilles replaced or their mudguards.
Maintaining your cab parts is very important to help with the overall efficiency of the digger. Mirrors can be replaced if cracked or broken, as well as window catches. Door components can be upgraded, these include locks, fixings, struts and handles.
Electrics will often need to be replaced as these are likely to run out. These lights will usually include indicator, front and rear working, rear fog, rear tail, front head, front side and beam.

Brake and brake parts are an important part to replace and make sure are in full working order. Things to keep an eye on are brake plates, brake sales, digger brakes and hand brake pads.
Front axle & prop-shaft parts can be replaced, this includes the axle knuckle with bearings, oil seals and drive-shafts. The front hub - gears, bearings, wheel studs and the top hat carrier. Front axle steering - seals, bearings and pins. Front differential - different gear kits, shim kits, bearings and crown wheel.
Finally, if the digger seems to be faulty, there might be a problem with the hydraulics. Numerous accessories are available to counteract hydraulic faults, including oil coolers, drive shafts, hydraulic pumps, clamp controls, ramps and piston components.
Articles