Cultivator Parts Guide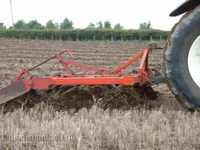 Cultivators are a vital part of farming and can vary dramatically in size, from small ones suitable for home gardening (known as rototillers) to large ones towed by tractors and used for industrial farming. The larger cultivators can sometimes even be up to 80ft (24m) wide. The cultivating height of a large cultivator is controlled by one or more hydraulic cylinders. Inevitably, over time parts of a cultivator will need to be replaced.
Cultivator parts include:
Cultivators are designed to break up the soil before planting or to aerate the soil once the crop has been planted. The blades of the cultivator may well need to be replaced after a while. These are the part of the cultivator that breaks up the hard soil and consequently they take a lot of punishment. The blades need to be both hard and sharp to reduce excessive wear and to do their job effectively.




The hydraulic mechanism of a cultivator may well need replacing over time. Depending on the severity of the problem with the hydraulics, this could be very expensive to replace. Make sure that all the hoses and connections are in good condition and check them regularly.




Some models of cultivators use wheels instead of a hydraulic system. Little issues can turn into bigger problems. For instance, make sure all the bearings used in the wheels are in good condition so that they run true and don't affect the depth of cultivating.




A lot of cultivators are feature other equipment such as disc harrow to further break up and soil and remove weeds. The harrow discs come into a lot of contact with the soil and any rocks etc. and may need to be replaced over time. Harrow discs are quite easy to come by and all farm machinery companies should be able to source them for you.




The roll rings on a cultivator may also need to be replaced or at least have their bearing replaced over time. Bearings for these sorts of cultivator parts are often quite cheap and make a big difference to efficiency and effectiveness of the cultivator.
Articles