Bale handler parts guide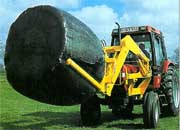 Bale handlers are used to pick up hay bales that have been dumped on the ground by the hay baler. There are several different types of bale handler that are intended for use on different types of hay bales.
Some bale handlers use spikes to pick up the bales and move, others use a grabber type of mechanism and another different type of bale handler behaves like a forklift truck and picks up the hay bale from underneath. This guide outlines some of the spare bale handler parts available and where to get them.
Bale handler parts
Bale handlers use hydraulics both to life up the bales and to operate the grabbing system or the spikes. With years of use, the hydraulic system may start to show signs of wear and tear and may need spares.
The first things that are likely to need replacing in the hydraulic system are the various seals. They suffer from increased amounts of pressure and movement and often perish. These bale handler parts are often very easy to obtain from farm machinery dealers and are often inexpensive.
Things such as the hoses, valves and the connections may need replacing after continued use. These are more expensive and difficult to replace but they will not need replacing very often, if at all. Again, a good farm machinery supplier should be able to provide you with all of your spare bale handler parts.
If you have a spiked bale handler, you may need to replace the spike at some point. This could be because it has become loose through continued use or perhaps bent or damaged in some way (although this is unlikely as they are quite strong). Shopping around may provide you with somewhere to buy an individual spike but often you will need to buy the whole unit which could cost several hundred pounds.
Articles