Bale accumulator parts guide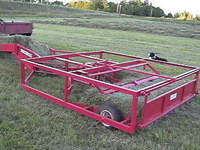 Bale accumulators are towed behind a regular baler and group together the bales of hay or straw and then dump them on the ground in a group to make collecting them much easier.
Although one bale accumulator can be different from another, they often are all very simple mechanical machines and the parts that can go wrong on a bale accumulator are often quite simple.
Hay bale accumulator parts
Because of the simple mechanical nature of bale accumulators, the parts that are likely to need replacing are quite simple and are often things like bearings, seals and bolts etc.
The bale accumulator guides the hay bales from the back of the baler through a series of gates that organises them together, when there are either eight or twelve bales in the bale accumulator, the rear gate opens and leaves them on the ground ready to be picked up.
Things such as bearing and seals are readily available from all farm machinery outlets and are usually quite cheap. One of the most likely bale accumulator parts to need replacing or repairing is one or both of the trailing wheels. These keep the bale accumulator at the correct height and with continued use, the tyres will probably perish or get punctures etc. These are easy and cheap to replace.
Some bale accumulators are more complicated and use a hydraulic system to move and dump the bales. The most likely parts that will need replacing are the seals for the hydraulic systems and these again are quite cheap to replace. Other parts of the hydraulic system may need replacing after many years of use such as the hoses and connections. Prices for these will vary depending on the part in question. Any good farm machinery company will be able to supply spare and replacement bale accumulator parts.
Articles