A guide to telescopic handlers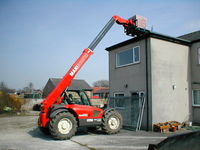 A telescopic handler is also sometimes referred to as a telehandler. These forklifts are often used in agriculture as well as in industrial situations. They look similar to a forklift, however, they are more similar to a crane in the way they operate. This is mainly because they have the huge versatility of a single telescopic boom, which extends forwards and upwards from the front of the vehicle.
These machines are also versatile due to the fact that the operator is able to fit one of several attachments to the end of the boom. Pallet forks may be the most common attachment used on a telescopic handler, but other attachments such as a bucket or a lift table, are also often used.
When you are required to swiftly move palletised cargo from one place to another - specifically to somewhere high up - these forklifts really come into their own. They are able to reach locations that other forklifts can't and they are also far easier and more versatile than a crane.
Though telescopic handlers are successful thanks to the range to which they can reach, this can also be one of the machine's limitations. The longer the boom extends to - whilst carrying a load - the more unstable the machine becomes. Though there are counterweights located at the rear of the vehicle, the lifting capacity will decrease as the distance between the load and the front wheels increases.
Changes in load capacity
If a vehicle has a lifting capacity of 5,000lp with the boom retracted, it may only be able to safely lift 400lb when the boom is extended at a low angle. The exact same forklift may also be able to support as much as 10,000lb when the boom is raised at an angle of 70°.
When you are operating these forklifts you should have a load chart, which you can consult to help you determine whether a task can be safely undertaken. These charts will take into account a number of factors including the boom angle, the load height and the weight of the load itself. The chart isn't usually your only method of calculating the lift capacity. Most telescopic handlers these days are equipped with a computer that is able to use sensors to monitor the vehicle's potential. These computers can also warn the operator or sometimes cut off the machine, if the vehicle begins to exceed its lift potential.
Some of these machines are also equipped with front stabilisers in order to add extra stability and these are sometimes known as mobile cranes. When being used, these stabilisers will extend the lifting capacities of the forklift when stationary.
Articles