A guide to restoring old tractors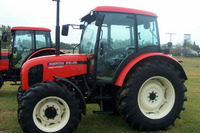 Lots of people have hobbies. Some people like to take part in sports or other physical activities; others like to collect things; and some others like to take old things and make them function 'good-as-new' once again.
Lots of people like to restore old tractors. This isn't necessarily a hobby for a hobbies sake, as a fully functioning tractor is of great use to a farmer, and restoring an older model can, sometimes, be a cheaper alternative to purchasing a new one. Though more often than not, it proves to be fiancially uneconomical.
Restoring an old tractor can be a tricky task. It involves plenty of know-how as well as lots of hard graft, however, carrying out the job to completion can be immensely rewarding.
So, before you crack on, you might want to read this guide to restoring an old tractor.
Before you begin, you will need to ensure that you have the capabilities and the know-how required to carry out the task. Can you open up a tractor, take a look at a part or component and understand how it functions, if it is damaged and, how to repair it or solve the problem? If you decide to carry out the work yourself without the required knowledge then you can end up overlooking a problem. This will just lead to more issues surfacing down the line. If you don't have all of the expertise, but still want to attempt the renovation, then it is worth having people at hand, who are only a phone call away and are willing to offer you help.
As well as the expertise, you will also have to ensure that you have enough time and space to be able to carry out this job correctly. That's right, as well as taking lots of time to complete the task, these renovation jobs can also take up a vast amount of space. You will have plenty of smaller spare parts lying around, and you will want to ensure there aren't any animals or children around, getting in the way.
Before you purchase the tractor for renovation, you need to decide on whether it is worth the work and effort. If the tractor is rusting into the ground or has plenty of missing pieces then the job may end up being harder than you thought and could even cost you more money than you wanted it to. You will need to consider whether the tractor is a rare model, because if it is, then it could be difficult to find replacement parts.
As with most large jobs, planning is key to a good restoration job. You will need to take your time to evaluate all of the parts and decide on which ones need replacing. You will also need to shop around properly and make sure you find the correct replacement parts in good condition that are also available at good value.
Think of your second-hand tractor as a hospital patient. In effect, you'll need to diagnose which parts of the tractor are poorly, and work out the steps you can take to rectify the problem. The best way of making a snap judgement over what parts of the tractor need fixing is to start the engine. Listen out for the telltale signs that help indicate 'unhealthy' areas of the tractor and try and spot any signs of disrepair or weakness.
Be realistic when it comes to setting a budget for replacement parts. Even if the price of making alterations seems a little extortionate, it's best to spend as much as you can reasonably justify to give the second hand tractor a fighting chance of flourishing as a long-term investment. Trying to cut costs at this stage may only hamper your chances of restoring a tractor effectively.
Once you have purchased any parts, it's time to begin the restoration process. Try and be systematic in your approach to making repairs and adjustments. Write a checklist of the tasks that need doing – this should help give you clarity of mind as you negotiate the process..
Finally, it's best to do smaller jobs in a thorough, step-by-step process than focus on the restoration of the tractor as a whole. Planning the restoration process of a used tractor can be tricky, so try and compartmentalise jobs as much as possible.
Extra tips and advice
Here are a few other tips and advice that might just help you when it comes to restoring an old tractor. If you read the above guide in its entirety then you will have a good idea of what is required to carry out the job, but these little snippets will most certainly also come in handy.
Get the manual - You should have access to your tractor's manual, and this will be a great help to you throughout the process.
Tools - Make sure that you have all of the necessary tools to carry out the job. Beyond the basic tool kit, you may also require a blowtorch, pullers, large wrenches, cleaning equipment and more. It is worth evaluating each job and seeing what is required tools-wise, before you commit.
Speak to people - It is always worth chatting to people who have carried out similar jobs to this themselves. They might be able to offer you some pearls of wisdom and help you out when it comes to carrying out the refurb.
So, there you have it. Our guide to help you when it comes to restoring a tractor. Hopefully you will find this useful and your restoration project will be fun and rewarding come the end.

Picture: Natalie Maynor
Articles