Organic farming - Converting to an organic farm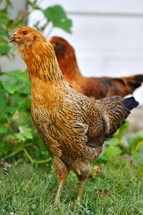 So, you want to start up an organic farm? That is a cracking idea! If you wish to convert your farm to one which produces organic food then there are a number of things that you must be aware of and a number of stages that you must go through.
Here at Farming Ads, we appreciate the value of all types of farming and therefore we are happy to put together this guide, which aims to help you through the process of converting your farm into an organic farm.
We have gathered plenty of information from a number of valuable sources, to make this guide as detailed and thorough as possible. Read on, to find out all you need to know about organic farm conversions.
The regulations
The production of organic food is strictly regulated by an inspection, certification and labelling scheme. Therefore, it is illegal to call a food product 'organic' if it has not been inspected and certified by one of the several organic control bodies (CBs).
If you are planning on moving into the organic food producing industry, then you will be required to undertake a complete and fundamental change in your methods of farming, production and processing.
One very good example of this is is the fact that organic farming strictly limits the use of artificial chemical fertilisers and pesticides. Therefore you will be required to use natural methods of pest control, as well as crop rotation, in order to keep the soil healthy. These are vital parts of organic farming.
It is also worth knowing that if you wish to become a certified organic producer, it can take up to three years to be officially recognised by the European Community organic food and farming regulations.
Benefits of going organic
UK farmers are able to diversify their methods and markets when they are involved in organic farming. They are able to do so, whilst also benefiting biodiversity and sustainability within agriculture and rural communities.
Farmers are also able to use a range of the latest techniques in soil science, biodiversity, crop breeding, animal husbandry, animal welfare standards, ecology, and the preservation of natural resources.
When it comes to accessing markets, organic farmers can also benefit from reaching new channels through sales to leading national supermarkets, local restaurants, or specialist organic shops. And, they can also access their consumers directly through organic farmers' markets or box schemes.
Key stats about the UK organic market
If you are considering converting to an organic farm then you may be interested in some of these facts and figures. Gov.co.uk states that the UK organic market is the third largest of its kind in Europe, following Germany and Italy. It also went through a decade of strong annual growth, however, in 2008 the sales of organic food grew by a more modest 1.7%. Then, in 2009, these sales fell by 12.9%. While these figures may have fallen in 2009, the sales of some products actually ended up increasing - these included organic baby food and organic milk.
Here are some stats that may be of interest to you as released by the Soil Association's Organic Market Report, released in 2013...
Independent outlets of organic food saw in increase in sales to the tune of 0.7% in 2012. These included sales through box schemes, mail orders, farm and health-food shops, catering and, of course, farmers' markets.




2012 also saw the increase in shoppers choosing home delivery over limited ranges at many supermarkets. One impressive success story was that of Ocaido, which increased its organic sales by 6.4%, to overtake Asda and Morrisons and become the UK's fourth-largest organic retailer. They also saw their predicted further growth for 2013 hit 10-15%.




Sainsbury's also had a good year in 2012, with its online organic sales increasing by a whopping 48%.




Back to independent retailers for a second - the independent organic sector is now valued at £480.6 million.




There is a reduced availability of organic products in various supermarkets, which has had a negative impact on the market. For example, the seven leading multiple retailers ended up seeing their organic sales fall by 3.8%.




Box schemes, however, along with home-delivery and mail-order sales, had a good year in 2012 and they increased by 4.4% to £174.3 million.
How to qualify to register as an organic farmer
There are a number of key factors to becoming an organic farmer. In order to qualify your land and produce as organic, you must follow these rules closely. If you fail to do so, then you wouldn't be able to receive the official accreditation required, to be able to call your food and produce organic...
You must maintain the fertility and biological activity of the soil on your farm.




You should also work towards increasing soil quality by using crop rotation including legumes and other green manure crops.




If you are farming livestock, then in order for them to be organic, you need to feed them only 100% organic feed that meets their needs at that stage of their development. These feeds must either be from your own, or a neighbouring farm. However, certain exceptions to this rule may apply - for example, if you cannot get certain organic ingredients in your area, then you are allowed to provide feed from an in-conversion holding. If you cannot get certain organic ingredients, you may be able to include non-organic ingredients approved for use in organic feeds.




You are also required to feed suckling animals only with natural milk, which is preferably maternal.




Livestock manure or organic materials should also be used. They can be taken from your own or a neighbouring farm.




In order to qualify as organic, you are also required to stop the use of growth promoters, synthetic amino acids, herbicides and pesticides on your farm.
These above requirements are present throughout all of the phases of food production and processing. Here are some more examples of how the regulations are present at the latter stages of the food chain...
You are only allowed to use substances from an authorised list.




You must display labels which show where your organic products were farmed.




In order to label your product as organic, you must ensure that at least 95% of the produce ingredients are organic.




You are not permitted to use genetically modified (GM) organisms or products produced from or by these in organic production.




And, you must always use the EU organic logo on all pre-packaged food, which you are labelling as 'organic'. The use of national and other logos are also encouraged.
Differences between organic and regular farming
There are a number of differences between organic farming and more traditional farming methods. Here are some of the more basic differences between the two, followed by a more detailed rundown of other differences...
Organic farms avoid using artificial fertilisers and pesticides.




Organic farms will also use crop rotation and other forms of husbandry to maintain soil fertility.




Organic farms also use appropriate husbandry techniques to control weeds, pests and diseases. Where necessary they are also able to use approved materials to control pests and diseases.
Rotation should be used in order to build soil fertility. You can also supplement soil fertility by using animal manures, which meet the pre-agreed standards. You are also able to use some types of soil bacteria in order to provide nitrogen to leguminous plants, such a peas and legumes. In some more specific cases, low solubility fertilisers or mineral products, such as rock potash and rock phosphate, can be brought in.
Animal welfare and husbandry
In order for your livestock to be approved as organic, you must ensure that your animals live under conditions that provide comfortable and stress-free lives. You must make sure that your animals are free from being confined to stalls, pens and poultry houses and that that have plenty of access to the outdoors when the weather conditions are good.
They must also be able to eat an appropriate diet at all times, including suitable feed and pasture areas in order to meet their dietary and behavioural needs. Your animals must also be given appropriate bedding and litter.
You must avoid giving your animals certain medicines, such as antibiotics, wormers and vaccines, however, some products are allowed on farms where there is a recognised problem or health risk. However, where this medication has been used, you will be under strict necessary constraints and will not be able to sell the meat or other products from that animal as 'organic'.
With the agreement of your organic CB, you are able to use livestock manure as a supplement where the fertility building phase of the rotation is not sufficient to produce the required levels of soil nutrients.
Where possible, any manures which should normally be composted before use should be recycled on the farm on which they were produced. If you do move manure off the famr, then they must be used on another organic holding.
The use of brought in manures on organic farms are strictly controlled and any manures that were produced on non-organic holdings, can only be used on an organic farm with the permission of your organic CB.
Organic farmers are also restricted to using up to 170 kilogram Newtons per hectare per year, across the entire holding. This is according to the amount of nitrogen that they can deliver in raising soil fertility.
If you are planning to use other approved fertilisers, including potassium and phosphorous, then these must come from natural materials, which release these nutrients slowly. Some of these products may be used on a restricted basis only and permission must be given from your organic CB first.
Useful added info
For more information on converting your farm to organic, or other information on organic farming in general, head on over to

gov.uk's page

on the subject. You can also find useful info at the

Organic Entry Level Stewardship (OELS)

on the Natural England website.
Articles