Managing an organic farm - Soil and nutrient management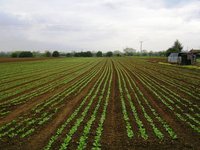 Organic farming is a form of agriculture that utilises, and relies on, specific techniques including crop rotation, green manure, compost and biological pest control. Though organic farming uses fertilisers and pesticides it excludes, or strictly limits the use of any manufactured fertilisers, pesticides, plant growth regulators such as hormones, livestock antibiotics, food additives, genetically modified organisms, nanomaterials and human sewage sludge. So, therefore, organic farms will avoid using any herbicides, insecticides and fungicides.

If you are thinking of starting up an organic farm then you may want to know that organic agricultural methods are internationally regulated and legally enforced by many nations, which are based in large parts on the standards set by the International Federation of Organic Agriculture Movements (IFOAM).

IFOAM defines the overarching goal of organic farming as:

"Organic agriculture is a production system that sustains the health of soils, ecosystems and people. It relies on ecological processes, biodiversity and cycles adapted to local conditions, rather than the use of inputs with adverse effects. Organic agriculture combines tradition, innovation and science to benefit the shared environment and promote fair relationships and a good quality of life for all involved..."

But that is enough of the formalities. When starting up an organic farm, it is important that you do things properly. One of the toughest jobs is managing the soil and nutrients on your farm.




Organic farming: Soil and nutrient management
This can be one of the main major challenges when it comes to organic farming. You need to ensure that your soil remains fertile whilst also maximising the nutrient recycling taking place and reducing any external inputs. This is where organic farming is clearly more difficult than regular farming, and it can only be achieved with skilful management. If you efficiently manage your soil's structure, nutrients and biology then you will be far more likely to achieve good yields of crops and healthy animals. However, poor management can lead to poor yields, poor animal health and increased environmental pollution.

If you plan carefully then you can develop crop rotations which take into account the nitrogen supply from legumes. You need to match your fertility building with your fertility departing to ensure that you sustain the levels of nitrogen in the rotation to keep your yields high.

One good way to ensure that you are rotating nutrients is to ensure that you are utilising the nitrogen that is located in one area by transferring it to another. For example, you can transfer harvested forage from one field to be fed to the animals, whilst also spreading any manure created onto other fields. It is all about rotating properly, whilst making sure that nitrogen isn't depleted in some areas when there are excess loadings in other areas.

It is vital that you frequently return any organic matter to the soil. This provides the soil with plenty of nutrients and will benefit the soil, so you should aim to return as much manure, legumes and crop residues back to the soil.

You should always inspect your soil and keep an eye out for any signs of issues. You should look out for any wet patches or areas where the crops aren't growing so well, then, once you have identified these areas, you need to rectify the issues.




Here are some extra tips to help maintain and help your farm grow but remain manageable:
Make sure to apply what is working well and change your business plan to fit this. Factor in employees that you may need later and the growth of the farm for example, extra resources.

You will need to find resources that you can use for a long time period, for example certified seeds or possibly livestock however you could breed them yourself.

Once your farm is up and running, you want to aim to reduce your costs and increase your sales to maximise your profits. So creating a website or advertising yourself may help here. Some independent organic farms rely on word of mouth or you could use this to your advantage. For example, making sure your service is of high quality, using that you are 'highly recommended' for your marketing strategy and having loyal customers will give you more credibility.

Organise events to promote your farm – this could include tours, pick your own berries or an educational trip.

In terms of reducing costs, you will need to do some research to find wholesalers to buy your products from. It is best to find a local wholesaler, however this is not always the most cost efficient option.

Ensure you are up to scratch with all policies when holding livestock, or growing vegetables and selling them to the public.
Photo by Richard Dunn, Suzette Pauwel 1 & 2
Articles