Cow vaccination information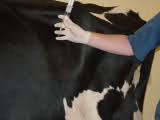 Cow vaccinations will strengthen a cow's health and should prevent infections and disease. It is important that you take a number of things into consideration when thinking about vaccinating a cow against a number of different conditions and diseases.
Here is a simple and brief rundown of some important vaccination tips.
Vaccinating a cow – some tips
Before you begin to vaccinate a cow, you must decide the purposes of the cow. Certain cow vaccinations are unsafe for cows that are bred for consumption by humans.

Make sure you know when your herd need to have cow vaccinations. For instance, certain livestock shows will need the cows to be vaccinated beforehand.

Find out from your vet which diseases are rife in your local vicinity. Certain diseases will be more active depending on the time of year, and where you are geographically. The vet will advise on which cow vaccinations are necessary for you and your situation.

Always vaccinate a cow before the cow breeding season starts, as when they fall pregnant certain cow vaccinations are unsafe.
There is also talk about a new Bovine TB vaccination that could be good for the individual cow, but it is also important to reduce the prevalence, incidence and spread of TB throughout the cattle population and it can also reduce the severity of a herd breakdown, no matter the infection is via wildlife or cattle.
Defra, the Department for Environment, Food and Rural Affairs, have stated that developing an effective cattle TB vaccination is a high priority and since 1998 they have invested over £23 million on research to help develop cattle vaccines and associated diagnostics.
Articles