How to store and maintain combs & cutters for sheep shearing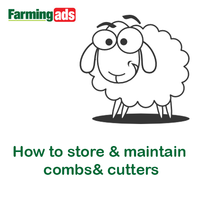 This video in our sheep shearing video shows how to maintain and store your shearing equipment to increase their lifespan, and keep them working correctly.
Phil Hart, our shearing expert runs through a range of combs & cutters used in sheep shearing. Phil makes recommendations for the types of combs to use for different breeds of sheep, goats as well as which combs to use for different areas on your sheep.
If you found this video useful, why not have a look at our other videos in the sheep shearing series:
Articles