How to roll wool after shearing your sheep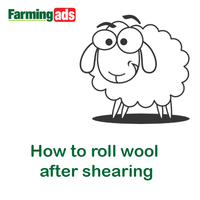 In this video from our sheep shearing how to series, Phil Jart shows us how to roll your wool after shearing your wool.
Phil explains how to lay the wool out and roll it out correctly for grading. Our expert explains the best way to roll the fleece in order that wool graders, who decide on the quality of the wool, are presented with the best part of the fleece.
We have a selection of videos on our sheep shearing series - to view them click on the links below:
Articles