How to pattern a sheep for shearing using wax crayons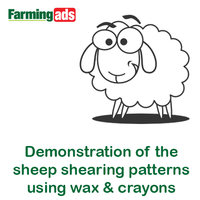 In this video in our series of Sheep Shearing How To's, Phil Hart demonstrates the patterns to be followed on sheep with your shears using a wax crayon.
Using this method, we are able to see exactly the paths that should be followed with ths shears, and the order in which to shear the sheep's body.
Phil stresses the importance of keeping the skin of the sheep tight with your spare hand to prevent the sheep from being accidentally clipped.
Click on the below links to view the other videos in this series:
Articles